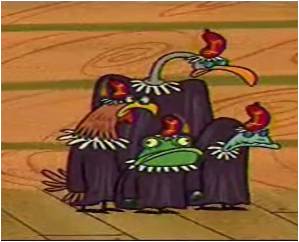 Legumes are minor characters of the series.
These guys have appeared in Slap Happy and Sweet Dream Baby so far. They come up with secret handshake in appearance 1, and had a pancake speech Scoutmaster Lumpus was suppose to be announcer of in appearance 2. There seems to be more of them in Sweet Dream Baby than in Slap Happy.
Brother Bubo
Scoutmaster Lumpus.
Ad blocker interference detected!
Wikia is a free-to-use site that makes money from advertising. We have a modified experience for viewers using ad blockers

Wikia is not accessible if you've made further modifications. Remove the custom ad blocker rule(s) and the page will load as expected.