Nursemaster is the twelfth episode of season four and the eighty-eighth episode on the series.
Synopsis
Nurse Leslie feels he is not respected in camp; therefore applying for a job at Acorn Flats.
Nurse Leslie feels he is not respected in camp.
Starting with this episode, Nurse Leslie's official title at Camp Kidney is Nurse Master Leslie.
It's learned in this episode that when Samson gets sick, his germs can cause others to at first, get sick, and then end up looking a lot like a hamster who is sick!
This is the second episode that revolves primarily around Nurse Leslie.
Samson: Can't you see I'm a walking health hazard?!
Transcript
Edit
Click here to go on the Transcript of this episode.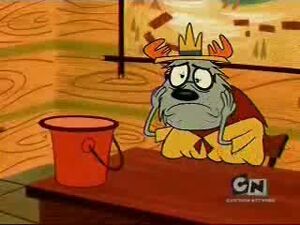 Ad blocker interference detected!
Wikia is a free-to-use site that makes money from advertising. We have a modified experience for viewers using ad blockers

Wikia is not accessible if you've made further modifications. Remove the custom ad blocker rule(s) and the page will load as expected.