Parent's Day is the fifth episode of season two and the thirty-first episode on the series.
Synopsis
Scoutmaster Lumpus' parents fail to visit on Parent's Day, so the rest of camp masquerades as his mother and father to cheer him up, with unexpected results.
The Jelly Bean cabin attempt to get Lumpus' mom and dad to visit Camp Kidney, so the Jellies with the help of Chip and Skip in trench coats pretend to be his mom and dad. The next day, Lumpus wakes up and finds picture of his "parents" that they love him, and that made him so happy. He made Camp Kidney "I love Camp Kidney Day".
Sugarland is the spoof of Candyland.
When Lazlo and Raj in disguise as Lumpus's parents fight about "driving", notice that the hands of the dung beetle brothers are moving along with what Raj and Lazlo are saying. How is this possible if the beetles didn't see what the two above were trying to do and if Raj and Lazlo weren't moving their arms for them?
First episode to have Scoutmaster Lumpus as a main character of the episode.
It's revealed that The Lemmings have 2 mothers and 2 fathers.
It's revealed that Lumpus haven't seen his parents in 17 years.
Continuity: The wigs that Clam and Lazlo wear are similar to the wigs they wore in the episode Swimming Buddy.
Credits: Lumpus' "parents" are playing catch with Lumpus.
Goof: When Lazlo (as Lumpus' mom) is reading the book, those are his hands holding the book, but when he leaves the room, it is one of the Dung Beetle brother's hands that are sticking out.
Lumpus: "They heart me, they really heart me."
Lazlo: (As Lumpus' mom) We would of been here sooner if your father wouldn't ask for direction
Scoutmaster Lumpus: Tell me you love me, Slinkman.
Lumpus: I love you Raj!
Raj: Yeah Yeah ditto. Let's just do this.
Scoutmaster Lumpus: "I despise you Lazlo."
Lazlo: "I love you Scoutmaster Lumpus!"
Scoutmaster Lumpus: "I despise you Lazlo!"
Lazlo: "I love you Scoutmaster Lumpus!"
Scoutmaster Lumpus: "I DESPISE YOU LAZLO!"
Lazlo: "I love you Scoutmaster Lumpus!"
Edward: I don't love you Lazlo.
Lazlo: I know.
Transcript
Edit
Click here to go on the Transcript of this episode.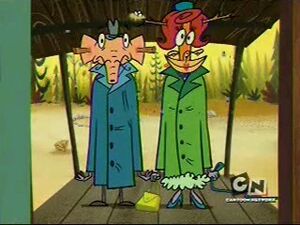 Ad blocker interference detected!
Wikia is a free-to-use site that makes money from advertising. We have a modified experience for viewers using ad blockers

Wikia is not accessible if you've made further modifications. Remove the custom ad blocker rule(s) and the page will load as expected.